All of the projects undertaken by the various Landcare and interest groups across our Network, are assisted during development and implementation by a part-time, paid Facilitator.
Our current Projects are varied, and we are always seeking interested people to help us develop or work on our activities.
ADAPT GRAMPIANS – Feb-Jun 2022
The Network has received Grant Funding through DELWP Grampians' "Adapt Grampians" program.
The project, conducted in partnership with Make a Change Australia and local organisations, will engage the St Arnaud and District community to:
broadly assist in normalising the conversation about climate change,
inspire/ empower local leadership, and
encourage ideas and action around the themes of climate adaptation, resilience, and community led solutions.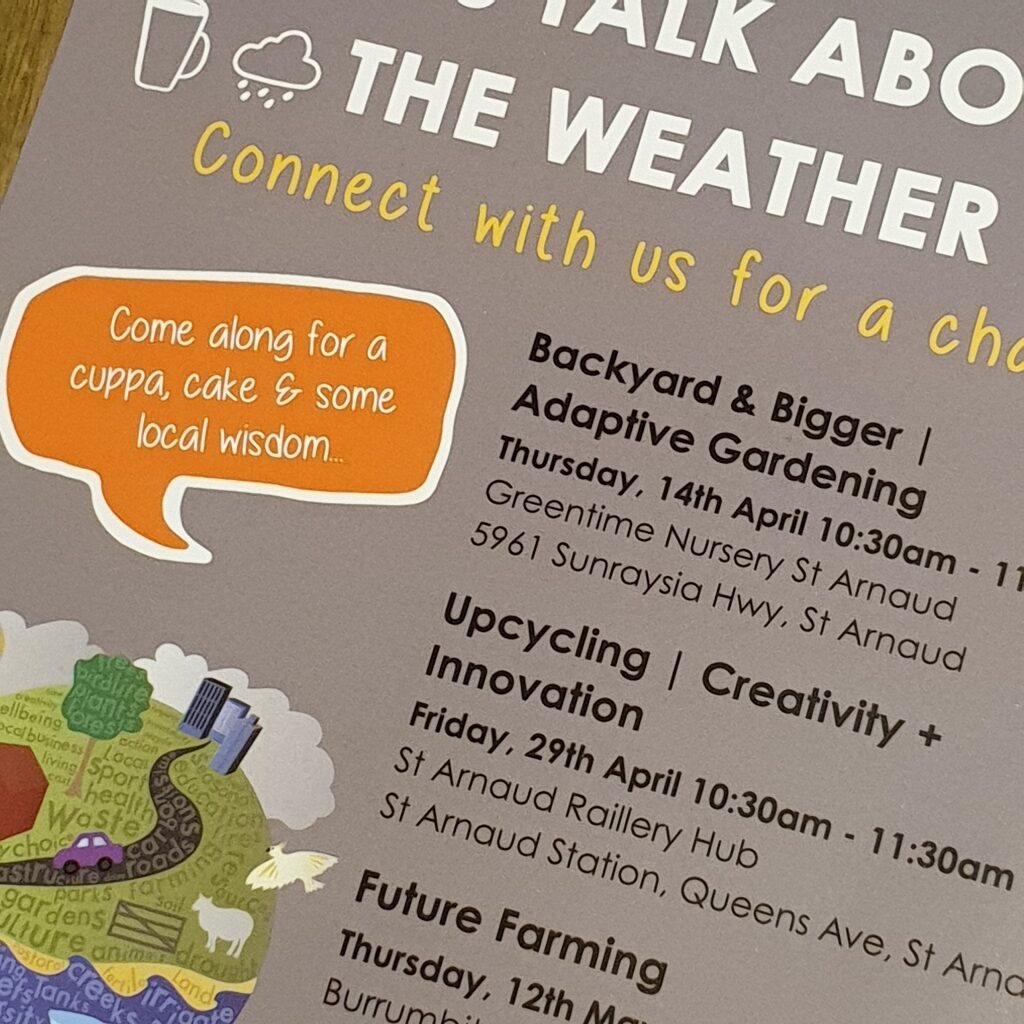 You can read more about this Project here.
'BNG BIOBLITZ' – Oct 2022
Planning has just commenced for the conduct of the second annual 'BNG BioBlitz'; to be held in October 2022 throughout the BNG Landcare Network area.
The purposes of this project are to:
Conduct an event to map the biodiversity of identified areas throughout the Network.
Engage communities and schools to assist with the planning and implementation of the event.
Attract researchers to the area to assist with the conduct of the event.
Facilitate an increased regional interest in Citizen Science.
In September 2020 and October 2021, the BNGLN participated in the 'Great Southern BioBlitz'. This event, conducted throughout Africa, South America, Southern Asia and Australia, provided an opportunity for groups to contribute to citizen science activities, and to showcase their regional biodiversity.  Our region registered in the top 25 participants, behind significantly larger entrants such as Cape Town, Lima, Sydney, Melbourne, Buenos Aires and Quinto!  We have a level of biodiversity that is worth protecting; including many endangered species.
If this sounds like something you would be interested to know more about, then please contact us!
REVEGETATION PLANTOUTS – APR-SEP 2020
This year the BNGLN received several grants from Landcare Victoria to conduct large scale planting projects through the area. Additionally, we partnered with the 15 Trees organisation on several additional projects.
Approximately 20,000 native, tree, shrub and grass seedlings have been procured from our friends over at Neangar Nursery, for planting throughout of region. This also reflects hundreds of volunteer hours put in by Landcare Groups and individuals throughout recent months – all while operating within the restraints of COVID restrictions – a truly amazing effort!
In 2021, we hope to continue this great work to regenerate our landscape.
---
---